The long journey that is education does not only start when children enter school. It begins at home, and for many children it continues in nurseries. The best of these can offer an enjoyable, safe and smooth transition from toddlerhood to primary school. Here, we take a look at 10 of Cairo's best nurseries. If your child is attending a warm and loving nursery that you do not see listed here, please feel free to share this information with other parents by leaving a comment below.
Kicking off the list is Lads n' Lasses Nursery from Heliopolis. This brilliant nursery scored full marks in almost all our assessment criteria. Firstly, the nursery is filled with colors and artwork – much of it made by the children themselves. Granted, it is not as posh or as big as some of the newer nurseries popping up around town but it is the friendliest, warmest nursery we came across. Much of the toys and furniture are imported and of the highest quality. They have succeeded in creating a stimulating and engaging environment that we believe is ideal for the children's creative development. The impressive environment has an equally impressive staff too. They are well-trained, highly qualified teachers that care a whole lot about the children. They deliver a brilliantly designed original curriculum to prepare the children for entry into kindergarten. Perhaps one of our favorite aspects of this nursery is their one-on-one approach. They go to great lengths to give each child the attention they deserve because they acknowledge that each child is a unique individual. In fact, it is a breath of fresh air to find a nursery that applies the concept of individuality as much as they promote it. We also noticed that they have an extensive collection of imported books that we have not come across in other nurseries. We loved the way the teachers extracted the morals of each story in a way the children can understand. 88% of the parents we surveyed were "extremely satisfied" with the development of their child since joining – the highest of all nurseries in Egypt! Lads n' Lasses do not cut any corners in the food department either. Their meals are 100% organic, balanced and locally sourced. Overall, we were blown away with Lads n' Lasses Nursery. This is a shining example of what a nursery should be.
Where: 3 Kom Ombo Street, Heliopolis, Cairo
Contact:+201285586335, Facebook, Website
Under 5 Preschool has a whopping 6 branches spread across Cairo. They focus on developing the child's intellectual, physical, and emotional attributes. Parent feedback is very positive, hygiene standards are excellent, and security is taken very seriously. During our inspections, we noticed that the teachers and staff were very friendly and caring. In fact, their level of support and supervision was truly remarkable. There's a lot of physical activity to keep your children fit and healthy. During our study, we came across too many nurseries in Egypt where the staff were incredibly impatient, where they viewed the children as incapable, and in the process destroying their confidence in a crucial stage of development. But Under 5 is a breath of fresh air. We were amazed by how the staff encouraged the children to believe in themselves and to carry out certain tasks independently. They spoke to the kids in a respectful and dignified way – an incredibly rare aspect in Egypt. In short, Under 5 Preschool is simply remarkable.
Where: Shorouk, New Cairo, Nasr City, Beverly Hills, 6 October, Maddi
Contact: +201001422152, Facebook, Website
Youpi Nurseries blew us away with their philosophy of Education through Entertainment. The children develop through playing, learning, singing, and other fun activities supported by the best educational materials from US-based companies like Lakeshore. They even have a psychologist for the child's behaviour. Youpi are renowned for their ability to prepare your child to pass school interviews – both national and international. In fact, they're so good at it that schools send children that failed their entry tests to Youpi for further preparation. We were happy to see a lot of mutual respect between the children and teachers. Staff members are chosen based on their education and experience – as we saw first-hand during our undercover visits. They were understanding, caring and very loving. Three healthy, balanced meals are provided everyday. Finally, Youpi passed our hygiene tests, safety tests, and security tests with good results. All in all, an excellent nursery we'd highly recommend.
Where: Mohandeseen (3 branches)
Contact: +201151122152, Facebook
The parents we interviewed highlighted Le Palmier's trusted reputation and warm, cozy atmosphere. All branches scored very high on our hygiene inspection tests. Le Palmier doesn't compromise on safety and security with a CCTV system, security guards, and on-site medical supervision. During our observation as undercover parents, the staff demonstrated an excellent level of teaching and caring. They're friendly and loving with the necessary experience to prepare your child for school. All in all, Le Palmier ticked all our boxes and then some. We highly recommend this nursery to all parents.
Where: New Cairo, Mohandeseen, 6th of October
Contact: +20233034630
6
With its stellar reputation and unique ability to prepare children for success in academics, Kompass stands out for all the right reasons. It's a truly international nursery that attracts qualified and trained teachers from around the world. The parents are convinced their children attend the best nursery in Cairo. And whether you agree with them or not, Kompass certainly deserves to be recognized as one of the best in the city. In our observation, the level of professionalism at Kompass is rarely seen at other nurseries, setting the children up perfectly for an education at one of the top schools in Cairo.
Where: Maadi
Contact: +20223802977, website
Juniors Academy is one of the biggest and most beautiful nurseries in Cairo. Parents take comfort in the fact that their children are always learning in a fun and engaging way under the protective watch of the staff. The staff is continuously praised for their professionalism and the way they handle incidents. Despite its size, the nursery maintains a family-like, tight-knit atmosphere filled with love. The parents we spoke to were very satisfied with the physical and mental development of their children whilst highlighting the facilities as a huge benefit. In short, Juniors Academy is one of the best nurseries in Cairo, and one we doubt will disappoint you or your child.
Where: 5th Settlement (El-Tagamoa El-Khames)
Contact: +201000000035, website
8
Fun Yard Nursery & Summer School
There's so many good things about Fun Yard that we won't be able to cover them all here but the nursery can be summed up with one word: excellent. Fun Yard is arguably the best nursery in the west of Cairo encompassing 6 October, Sheikh Zayed and the Cairo-Alex Desert Rd. The environment is safe and spacious with a lot of natural features for your little ones to explore. The staff is friendly and professional with a good command of English. Fun Yard aims to give every single child the best care, and the attention they deserve. The children seem to love this nursery, and the parents rate it very highly. Simply put, Fun Yard is a top notch nursery with a good reputation and one we'd wholly recommend.
Where: Cairo-Alex Desert Road
Contact: +201007000871, website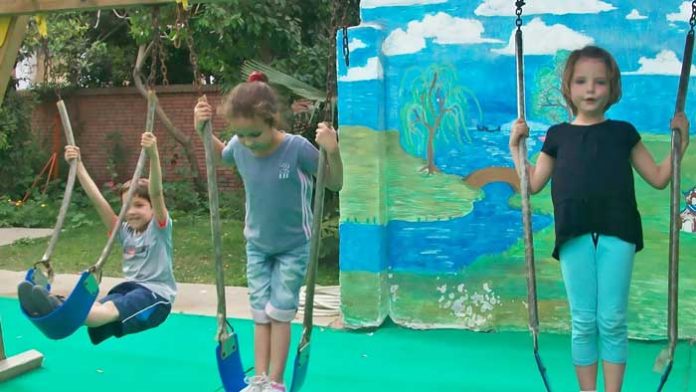 To many, the Irish School needs no introduction. They certainly have a reputation that precedes them, and we were adamant to put that reputation to the test. To nobody's surprise, the Irish School scored nearly full marks in pretty much all of our research criteria. On our visits, we noticed a good amount of care and attention devoted to the kids. Academically, the Irish School is in a league of its own. This is probably the best nursery to set your kids up to enter an international school. Other areas where the Irish School excelled in are hygiene, safety, security, classroom quality, play areas, food, and parent communication. A near perfect nursery experience offered by the Irish School.
Where: Dokki, Maadi, New Cairo
Contact: +201000904968, Website
11
Trillium takes a holistic approach, meaning they work on the physical, intellectual, emotional and social development of the child. This nursery loves to flaunt its Montessori method but the parents we spoke to were less concerned about this than what really makes a good nursery. The bottom line is simple. Parents look for a place in which their children can learn and develop in a safe and stimulating environment whilst having fun and being looked after. In that regard, Trillium does very well. With two branches and a new one on the way, Trillium is a first-rate nursery that's fast becoming the new benchmark in early childhood education.
Where: 5th Settlement (El-Tagamoa El-Khames), Heliopolis, 6 October
Contact: +201011556585, website
Before we get into what we really like about Leap, let's discuss the basics. Safety and security are taken seriously with plenty of guards, CCTV monitoring, child-friendly facilities, healthy food, strict hygiene standards, and a doctor available at all times. We love the huge outdoor area, and the professional gym to enhance the gross motor skills development. The parents are happy with the level of care and did not highlight any concerns. They pinpointed the friendliness of the teachers, and praised the teaching approach in a way we haven't seen from parents at other nurseries. Leap focuses on individuality as opposed to conformity. This means that Leap knows that each child is different and develops in their own way, at their own pace. They've surrounded the kids with theme-based environments in open classes, which works wonders in developing their intelligence and creativity. Add in the implementation of "The Leader in Me" program, and you're left with a uniquely brilliant preschool we highly recommend.
Where: Fifth settlement, North Ninety Street, Katameya Plaza Mall, Sodic
Contact: +201013888855/66, Website, Facebook
---
Now it's your turn. Let us know if we're missing a special nursery in the comments below. If you've had a particularly good or bad experience with any of the nurseries listed above, please let us know in the comments section. Want to get in touch with us? Just click here and drop us a message.