Looking for a great florist or flower shop in Cairo? Whether it's Mother's Day, Valentine's Day, or you just want to surprise your sweetheart with a fresh bouquet of flowers. No, we don't mean the corner shop down the road, get the pick of the bunch at one of Cairo's best florists and independent flower shops. Think we've missed a great Cairo flower shop? Do you agree with our choices? Let us know in the comments below.
Hope Flowers
This is the brainchild of a creative florist with a passion for the sea and an undying love for nature. Hope Flowers built its stellar reputation on designs inspired by coral reefs. Today, Hope Flowers has grown to become one of the most reliable suppliers of high quality flowers. They do very stylish designs for weddings and events, and stunning bouquets and arrangements for individual customers. The staff is very knowledgeable and friendly, making Hope Flowers one of the very best flower shops in Cairo.
Where: Heliopolis
Contact: +20224144840, website
Flower Power
Out of all the flower shops in Cairo, this is the most one associated with glitz and glamour. Flower Power has been riding a wave of success as it continues to provide hotels and weddings with extravagant arrangements. This famous florist has three flower shops across Cairo and still manages to give individual customers the attention they deserve despite growing to cater mostly to big events and celebrities.
Where: Mohandeseen, 5th Settlement, Sheikh Zayed
Contact: +20233048000, website
Gardenia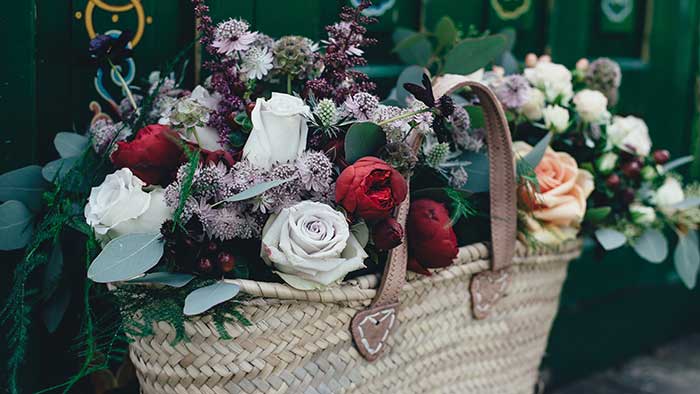 Tucked away on Zamalek's Sayed El Bakry Street, this flower shop has been in business for many years with a strong and loyal customer base. Spontaneous romantics can rely on same-day Cairo delivery as well as the option of adding a greeting card with whatever cheesy words you want to throw in there. The shop isn't the most glamorous but the bouquets are nice, and the flowers are fresh and attractive. Gardenia is one of those flower shops that get the job done without fuss.
Where: Zamalek
Contact: +20227359586, website
Fleurinjy
Fleurinjy was established by the everblooming Injy Teymour. They're the first in Egypt to offer floral design lessons to the public. Fleurinjy provides beautiful gift hampers and bouquets with delivery to Cairo and Alexandria. Along with Hope Flowers and Flower Power, Fleurinjy is one of the most popular floral vendors for weddings, hotels and corporate events. Fleurinjy's creations are all about style, elegance and sophistication. If you have an eye for floral design, you'll realize they haven't cut any corners to achieve that look.
Where: Maadi
Contact: +20225250135, website
Fleurtation
Located in Dokki, this florist packs a flowery punch in the world of weddings and events. The bouquets are modern and minimal but you'll also stumble upon their vintage, full-bodied designs every so often. Celebrities have been rumoured to order their flowers from Fleurtation, and we can see why. Not the cheapest of the flower shops, but they certainly provide flowers that will put a smile on most faces.
Where: Dokki,
Contact: +201220828218, website
Floradoor
If you're lazy, and can't be bothered to get out to buy a bouquet yourself, then Floradoor's got you covered. This is an online florist, and the biggest in Egypt at that. They have a huge selection of bouquets to choose from, and their website is quite easy to navigate. They're also involved with weddings and events, but we'd rather stick to a more specialized florist like Hope Flowers for that. Still, it's the convenience to shop from home which earns Floradoor a spot on our list. Oh, and did we mention they deliver on the same day, for free!
Where: Heliopolis
Contact: +201099995230, website
May Flowers
Another trustworthy flower shop that's been around for a while noted for its reliability. May Flowers have always been there when you need them with traditional bouquet designs we've all come to expect. They'll also take care of your floral needs for any event. Their customer service is generally on the positive side, and their prices are not too bad either when compared to others on this list.
Where: Zamalek
Contact: +201019331220, website
Outside In
Cairo's king of artificial flowers. Outside In blurs the line between what is natural, and what is not. The flowers look so close to their fresh counterparts that we had to pinch ourselves a couple of times. The floral designs are some of the best we've seen in Cairo, and the shop is very well maintained – an obvious advantage of working with artificial flowers. It's simple… If you're after beautiful artificial flowers that last forever, without the maintenance of fresh flowers, then Outside In is the place for you.
Where: Heliopolis
Contact: +20224143889, website
Florabel
Florabel make lovely fresh flower arrangements for any occasion or event. Their designs are innovative, and their attention to detail is astonishingly high. The shop has been around for decades, and is one of Cairo's oldest and most trusted florists. The staff is friendly and patient, offering you a level of professionalism rarely seen elsewhere.
Where: El Korba (Heliopolis)
Contact: +20224154094
Bellissimo
Located on the corner of Midan Degla and Road 206, Bellissimo is a flower boutique that takes care of events but also offer a gorgeous range of bouquets and rare flowers you won't find easily around Cairo. They also have some of the best scented candles in town to go with their fragrant flowers. If you're in Maadi's Degla area, and you're looking for a top notch flower shop, you certainly won't be left disappointed with Bellissimo!
Where: Maadi
Contact: +201115572344, website
---
Now it's your turn. Let us know if we're missing a great florist or flower shop in the comments below. If you've had a particularly good or bad experience with any of the florists listed above, please let us know in the comments section. Want to get in touch with us? Just click here and drop us a message.